Eye exams are the cornerstone of all eye care. Whether you're looking to update your eyewear, try on a pair of contact lenses, or get help managing a range of eye conditions or diseases, the first step is always an eye exam.
But not every eye exam is the same. Depending on your needs, our team may take different steps to determine what treatment or strategy might be best for you, your eye health, and your vision. But what are these steps, and what can you expect from your eye exam when you visit our office?
Today, let's look at these unique eye exam processes and how they can help support your eye health and vision. However, it's important to know that even though we'll talk about the eye exam process at length here, your particular eye exam may vary depending on your particular needs.
We recommend speaking with our team today and booking an appointment for a complete overview of what you can expect during your comprehensive eye exam.
Before We Get Started…
Eye exams are an essential part of your healthcare routine, and we highly recommend attending them regularly.
Everybody's eye care needs are a little different, but we recommend having annual eye exams so we can monitor any changes in your eye health and vision. We also recommend bringing in your current eyewear when you come for your appointment so we can determine if they are serving your needs properly.
Before starting the eye exam, we'll review your medical history to ensure it's all accurate and up-to-date. The information you provide helps us orient your exam to look for potential issues you might be at risk of developing.
Once we have all the information we need, we can move forward with the rest of the eye exam.
What's the Same?
Whether you're visiting us for a routine eye exam or to address an issue with your eyes or vision, we'll perform a few steps each time you sit down in the optometrist's chair. These steps include visual acuity testing and an eye health examination.
Vision Assessments
One of the most important aspects of your eye exam is the vision assessments we make. During this portion of the eye exam, we use several techniques to determine your vision quality and acuity.
Measuring these aspects helps us determine your lens prescription and if you need specialty lenses to help you see as clearly as possible. Some of the most common issues we can detect during this part of the exam include refractive errors like myopia, hyperopia, and astigmatism.
Eye Health Examination
Getting a deep look into your eyes is also incredibly important to the exam process, as it can help detect potential diseases and conditions that may be developing.
We use several technologies to examine your eye and its internal structures, but we may need to dilate your pupils to get a better look at your eye health. For more information about dilated eye exams and how they can affect your vision, please check out our blog on the subject.
Some of the most common concerns we look for during an eye health examination include:
Glaucoma
Age-related macular degeneration
Diabetic retinopathy
Cataracts
Please visit our Eye Disease Diagnosis & Management page to learn more about these issues and how they may affect your vision and eye health. If we detect any of these concerns, we can develop a strategy to help preserve your eyesight.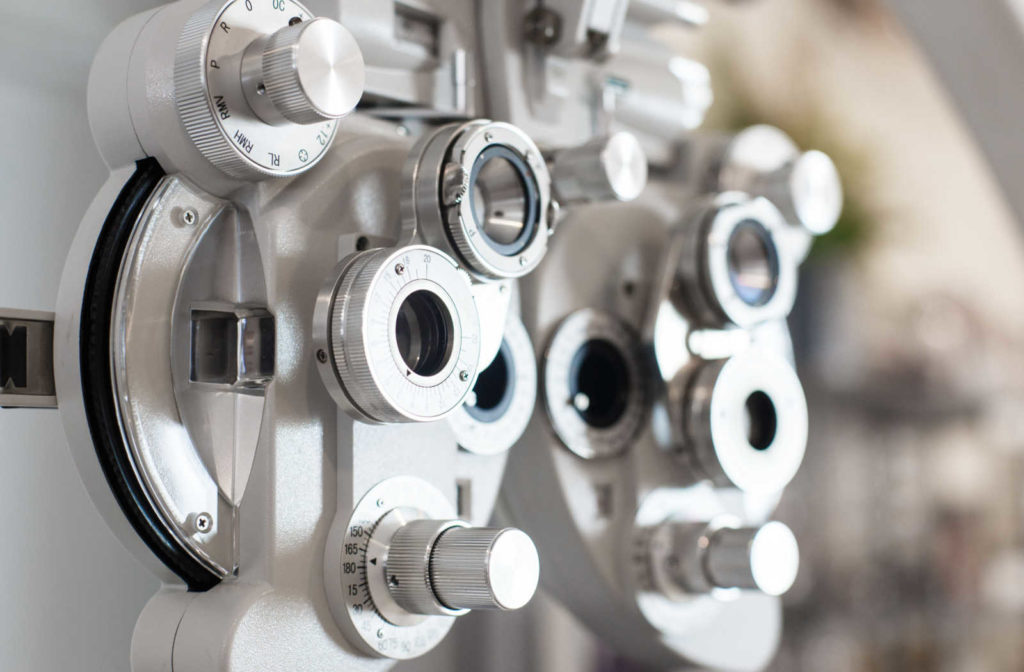 What Is the Difference Between Traditional & Contact Lens Exams?
Now that we've looked at what you can expect from most eye exams, let's look at the difference between traditional eye exams and contact lens exams.
Before you visit us, please let us know if you're interested in trying on contact lenses. Letting our team know beforehand can help us prepare for your appointment and provide you with a quick, comprehensive experience.
The Contact Lens Exam & Fitting
If you're interested in trying on contact lenses, one of the most significant differences you'll notice is the contact lens exam & fitting.
The contact lens exam helps us determine if you're a candidate for contact lenses and which lenses may suit your needs best. During the exam portion, we'll look for potential issues that can affect how you wear contact lenses, like:
Frequent eye infections
Allergies
We'll also look into your lifestyle to determine if contact lenses are right for you, and may not recommend them if you live or work in dry, dusty, or windy environments.
Once we determine your candidacy, the next step is to try on contacts that help address your needs and support your vision. We measure the shape and size of your eyes to determine which lenses may suit your needs. At West Coast Optical, a separate appointment from your initial eye exam, is required for your contact lens fitting.
During your fitting, one of our licensed Contact Lens Fitters can recommend a variety of contact lenses, including:
Soft contact lenses
Toric lenses
Extended-wear lenses
Once we determine which lenses may be the most suitable for you, we have you try on your lenses for a short period of time. We'll have you in for a follow-up appointment soon after to review how you're adjusting to your lenses and if you need any changes.
Caring for Your Contacts
During your contact lens exam and fitting appointment, we'll also teach you how to care for and clean your new contact lenses properly. Some recommendations we make include:
Never swim while wearing your contacts.
Using the correct lens solution for your contacts to clean them.
Avoid falling asleep with your contacts on.
Wash your hands before and after removing your lenses.
Cleaning your contact lens case with your lens solution each time you use it.
Regularly replacing your lenses as recommended by your optometrist.
Trying on New & Stylish Frames
If you're not interested in contact lenses, or if they're not a match for your needs, we can direct you to our wonderful optical team to help you find a beautiful pair of fashionable frames.
Your eyeglasses should be comfortable to wear and complement your overall look and style. Once you find a pair you love, we can combine them with your prescription lenses.
What Appointment Should You Book?
Choosing between eyeglasses and contact lenses can be tough, but West Coast Optical is here to help determine which is best for your needs and lifestyle. The first step, however, is having an eye exam.Book your next appointment and let our team help you find the crisp, comfortable, clear vision you deserve today!